How can we futureproof our EV charging strategy?
The Believ team works closely with our clients to ensure that the charging infrastructure on site is technologically relevant, fit for purpose and scalable. As the needs of your business change, we will support you via a long-term partnership to provide continued support at scale and at pace.
How can your EV strategy meet your Sustainability or Corporate Social Responsibility objectives?
Providing publicly accessible charge points will help to remove a significant barrier to mass EV adoption. It will also encourage your team, your customers and visitors to adopt an electric vehicle and attract existing EV drivers, actively reducing direct carbon emissions in your area. Additional benefits include improvements to air quality and decreasing noise pollution – whatever your business goals, developing an EV strategy will help you achieve them.
Why does your business need an EV charging strategy?
SMMT (Society of Motor Manufacturers and Traders) data shows that, as of October 2022, there are almost 600,000 battery electric vehicles (BEVs) in the UK, a number that is certain to continue to increase exponentially as we approach the 2030 new petrol and diesel sale ban.
Installing charge points will ensure your business is meeting the present and future charging needs of your staff, your customers, and visitors as they transition to electric vehicles (EVs), adding significant value to your offering.
Supporting the transition to electric mobility by providing reliable, accessible, future-proofed electric vehicle charge points will also help you meet your business sustainability and Net Zero goals.
No results found
Are there any other benefits to installing EV charging infrastructure on my premises?
There are a number of benefits that can be achieved as a result of installing EV infrastructure. The type of chargers installed will complement the strategy of your business and can increase both footfall and dwell time. As the number of electric vehicle drivers continues to grow, so does the demand for public charge points, bringing a whole new audience to your business. Furthermore, installing EV charge points supports your businesses corporate and social responsibility strategy.
How do Believ fund the EV charging installation?
With the backing of our shareholders Believ and Zouk Capital, Believ is able to offer a privately funded EV charging model at no cost to your business or the taxpayer.
What procurement route can we take?
Believ is entirely flexible and will work with all procurement routes, such as tendering or direct procurement approaches.
Why do Believ fund EV charging?
Believ believes in sustainable transport that leaves no one behind. Offering a privately funded model ensures businesses of all sizes are able to provide EV charging to their team, customers and visitors. We believe in delivering at scale and at pace, because we are in a hurry to reduce CO2 emissions, improve air quality and move away from our reliance on fossil fuels.
No results found
Implementation and Site Selection
Can you cover sites across the UK?
Believ is able to deliver EV charging infrastructure across the country, with offices in both London and Leeds and a trusted supply chain that covers the whole of the UK. So, whether your business has one site or hundreds of sites spread throughout the UK, Believ is able to plan, install and maintain the optimal EV charging network for your business.
Can you use our existing EV charging infrastructure?
Believ is hardware agnostic – we see the importance of maintaining flexibility when working with technology that is constantly evolving. When we sit down with you, we will take all factors into consideration to present you with the optimal plan for your business.
How do I decide where to locate the EV charge points?
There are numerous factors to consider when identifying optimal sites for charge points, such as proximity to power access, existing street furniture, car park lighting, width of pavement and walkways. By partnering with Believ, you will be able to access end-to-end support from our expert team of planners, who will carefully and strategically consider your business needs, along with the industry technical, environmental and accessibility requirements.
How do we ensure that the public know the charge points are available for use?
The Believ free mobile app and our website allow users to locate charge points on our live map. Our network is also visible on Zap Map and Paua, ensuring charge point usage is optimised.
How do you ensure your charge points are accessible by all?
Part of Believ's mission is to ensure the transition to electric vehicle leaves no one behind. Our team always keeps up to date with the latest regulations and accessibility standards to make sure our network is fully compliant.
What kind of EV charge points should we deploy?
Believ is able to deploy the complete range of charge point speeds. The type of charge point deployed in a site is selected carefully depending on the specific needs of your business, the existing infrastructure in the area, local vehicle data analysis, and more. Our team of expert planners will work with you through every step of the process, recommending a bespoke, strategic approach.
No results found
Do I need planning permission?
Technical requirements, as well as the need for planning permissions, will vary greatly depending on the specific location. Contact our team for more information here.
How long will the installation take?
Defining a timeframe that meets both your business needs and the industry best practices is key to a successful, strategic EV charge point installation plan. A dedicated project manager and access to direct communication with our expert planning and delivery teams will ensure minimum disruption and good timekeeping.
What will you need from us?
Believ will generate a bespoke solution based on the requirements of your business, which will also include careful consideration of what we would need from you. Believ is looking for long-term partnerships to ensure a smooth, scalable transition to electric vehicles that benefits your business, as well as your local community.
No results found
Maintenance and Operations
Do I need to maintain the units?
Active and reactive maintenance of the charge points will be managed by Believ to ensure maximum network availability.
How do I drive demand to the charge points?
While the Believ team is always planning with usage optimisation in mind to make sure that the network organically attracts users, our expert marketing and communications team is also happy to support the launch of a new partnership with PR and marketing initiatives.
What happens if a customer or staff member experiences an issue while charging?
Believ proudly partners with the AA to offer 24/7 support for any urgent issue. The helpline can be reached at 0330 111 5335.
In the unfortunate event of a charge point malfunction, or to provide us with feedback on the network, fill out our drivers contact form here.
What happens if technology moves on?
When planning and delivering EV charging infrastructure, we take into account the fast-evolving nature of technology and are happy to implement any appropriate upgrades to our charging units.
No results found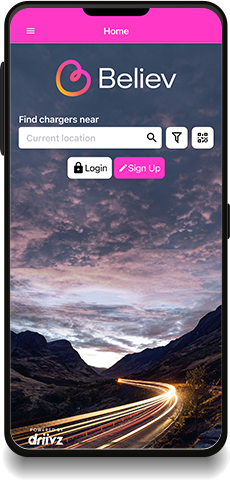 Download our app!
Download the Believ App to access Believ's electric vehicle charge points in the UK.
We make public charging simple.