The Believ app
The easiest way to access your local Believ electric vehicle charge point.
View real-time EV charging point availability map

Select a charger on the map or scan the QR code to start your charge

Pay with a debit/credit card – No subscription required
Once registered, view your previous charging sessions to keep track of costs, and order an RFID card for use on the Believ network
And if you do need help with anything, contact our dedicated 24/7 support team.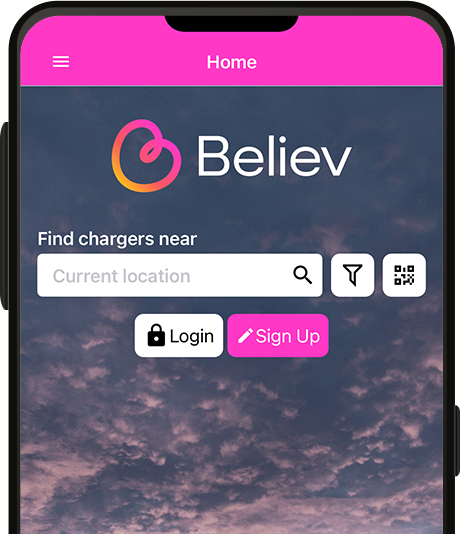 Charge Now
We believe charging your car should be easy and affordable.
In just a few clicks you can refuel with 100% renewable energy at a fair price.
How to Charge
Having Trouble?
Pick a plan for you
Membership
For regular EV drivers, at just £5/month our Membership plan is a great way to save:
Cheaper charging across our growing network of on-street charge points
Fast (7-22kW) charging starts from 53p/kWh
Rapid (50-75kW) charging starts from 60p/kWh
A free RFID card for easy charging, provided on request via our app
A simple monthly contract, which you can cancel at any time.
Pay As You Go
Our Pay As You Go plan is as simple as it sounds:
There's no monthly commitment, just pay for what you use
Fast (7-22kW) charging starts from 56p/kWh
Rapid (50-75kW) charging starts from 66p/kWh
As a pay-as-you-go user, you can sign up for a Believ account to keep track of your charging history in our app or driver portal.
How to charge
How do I use a Believ charge point?
The easiest way to start your charge is to use your phone camera to scan the QR code on the side of the charge point, which links to our website.
Locate the charge point you're at on our interactive map, or simply search for the ID number shown on the front of the charge point. Simply select the charger you'd like to use and follow the prompts to start a charge session.
If it's your first time using our network, you will need to enter your payment details (and your contact details if you'd like a billing receipt).
Alternatively, you can download the Believ EV app from the App or Play store, select 'Find a charge point' from the menu and follow the same steps as above.
My vehicle won't start charging. What should I do?
If you can't get the charger to work, please check the settings on your car to ensure no charge timers are active. Next, make sure that you are plugged in to a charger with the same Charge Point ID as the one you are trying to access on the app or website.
If you are still unable to charge, our friendly customer support team are available 24/7 to help you out. You can give them a call on 0330 111 5335.
Do I have to pay for parking at a charging station?
The rules governing parking bays depend on where they are located. You should always check the local signage to determine what regulations apply in order to avoid any penalties.
Please note we have a day-time idle fee of 8p/minute, which applies after 4 hours of plugged-in time, if your vehicle is no longer charging.
The idle fee is only applicable in daytime hours (9:30am – 6:30pm Monday to Sunday), so charging overnight will not be subject to idle fees until 9:30am the next morning. The fee is applicable to both members and PAYG users.
The fee is there to ensure the chargers are vacated when charging is finished, so that other users get a chance to fill up.
What should I do if I find a non-electric vehicle is occupying a Believ bay?
Whilst we will do everything we can to keep the charging bays exclusive to electric vehicles, it is the responsibility of the boroughs to enforce the parking regulations. Please report any vehicles illegally occupying a bay to the relevant local council directly as they will have the authority to have vehicles ticketed and/or removed.
Is my EV compatible with the Believ charging points?
All Electric Vehicles are compatible with our charge points.
All of our charge points will have a Type 2 socket, for you to plug in your own charging cable.
Please ensure you are using the correct Type 2 charging cable to charge your vehicle. Using cables that are not EV Type 2 charging cables may lead to the cable becoming stuck in the charge point.
How fast will my car charge?
Our AC Fast charging points are rated 7-22kW, however most cars available today will charge at between 7-11kW. That's fast enough for a full battery in 4-6 hours for a typical EV. All our AC Fast charge points have dual sockets, allowing them to charge two cars simultaneously. Adding a second car to the charge point will not disturb or affect the first charging session.
All EVs are different, and charging times will vary depending on your vehicle and your battery's state of charge. Please check your vehicles maximum charge rate to determine the maximum speed available to you. For example, if your vehicle has a maximum charge rate of 7kW, then even if you plug into our 22kW charger it will only charge at 7kW.