Do I have to pay for parking at a charging station?
The rules governing parking bays depend on where they are located. You should always check the local signage to determine what regulations apply in order to avoid any penalties.
Please note we have a day-time idle fee of 8p/minute, which applies after 4 hours of plugged-in time, if your vehicle is no longer charging.
The idle fee is only applicable in daytime hours (9:30am – 6:30pm Monday to Sunday), so charging overnight will not be subject to idle fees until 9:30am the next morning. The fee is applicable to both members and PAYG users.
The fee is there to ensure the chargers are vacated when charging is finished, so that other users get a chance to fill up.
Do I have to pay for parking whilst I charge my vehicle?
Please always make sure to check the signage by the charge points as different parking regulations apply at different locations. Please note that Believ will not be responsible if you do not respect local parking regulations and fees, which are set and controlled by the relevant local authority.
Do you have a tariff for taxi drivers?
If you hold a valid private hire driver's license, we offer a Taxi plan to make it easier to fit charging around your working hours.
The Taxi Plan has the same rates as the Membership plan, but removes the Idle Fee, so you can charge worry-free at any time of day.
To sign up, simply email a photo of your private hire driver's license to [email protected], quoting your account number.
Minimum usage 120kWh/month. Ts & Cs apply.
How do I cancel my account?
Should you wish to cancel your account(s), simply send a written request from your account holder email address to [email protected].
You can also reach us by post at:
Believ
Customer Service Support
1 Boundary Row
Southwark
SE1 8NG
London, GB
Please note that we are unable to accept cancellation requests made over the phone.
How do I cancel my membership plan?
You can cancel by emailing us on [email protected] requesting cancellation. Please quote your account number in this email. Your cancellation request will be processed within 5 business days.
Please note that cancellation of your membership will take effect as soon as your request is processed, and your prices will revert to the Pay As You Go rate. We will refund you the pro-rated subscription fee for the remainder of your subscription month.
How do I use a Believ charge point?
The easiest way to start your charge is to use your phone camera to scan the QR code on the side of the charge point, which links to our website.
Locate the charge point you're at on our interactive map, or simply search for the ID number shown on the front of the charge point. Simply select the charger you'd like to use and follow the prompts to start a charge session.
If it's your first time using our network, you will need to enter your payment details (and your contact details if you'd like a billing receipt).
Alternatively, you can download the Believ EV app from the App or Play store, select 'Find a charge point' from the menu and follow the same steps as above.
How fast will my car charge?
Our AC Fast charging points are rated 7-22kW, however most cars available today will charge at between 7-11kW. That's fast enough for a full battery in 4-6 hours for a typical EV. All our AC Fast charge points have dual sockets, allowing them to charge two cars simultaneously. Adding a second car to the charge point will not disturb or affect the first charging session.
All EVs are different, and charging times will vary depending on your vehicle and your battery's state of charge. Please check your vehicles maximum charge rate to determine the maximum speed available to you. For example, if your vehicle has a maximum charge rate of 7kW, then even if you plug into our 22kW charger it will only charge at 7kW.
How to contact us
If you have a Believ account, you can send us a message from the 'report an issue' page in our app.
Don't have an account yet ? Please get in touch via our contact form, or email us at [email protected].
For any urgent queries, our helpline is available 24/7 on 0330 111 5335
You can also contact us by post:
Believ Limited
Customer Service Department
Griffin House
161 Hammersmith Road
London, W6 8BS
United Kingdom
I've signed up for the membership plan. When is the payment taken from my account?
Your first subscription payment for the Membership plan will be taken straight away when you sign up, then monthly on that day thereafter. For example, if you signed up on the 7th February, your first payment would come out that day, and your next payment would be on the 7th March.
Is it dangerous to charge my car while it is raining?
No, the chargers are safe to use in the rain.
Is my EV compatible with the Believ charging points?
All Electric Vehicles are compatible with our charge points.
All of our charge points will have a Type 2 socket, for you to plug in your own charging cable.
Please ensure you are using the correct Type 2 charging cable to charge your vehicle. Using cables that are not EV Type 2 charging cables may lead to the cable becoming stuck in the charge point.
Lost/stolen/faulty RFID card, what should I do?
If you have lost your RFID card, it's faulty, or you suspect your card has been stolen, please call our customer service team on 0330 111 5335 to log the RFID card as lost/stolen/faulty and to request a replacement if you would like one.
Please note that a £10 fee will apply when issuing a new card to replace a lost RFID card. A copy of the official police crime report will be required to receive a free replacement if the RFID card was stolen.
In the unfortunate case your RFID card is stolen or lost, we recommend you call us at the number above so that we can quickly deactivate it for you. For any non urgent questions, you can also email us at [email protected].
If you have found a Believ card, please post it to:
Believ
Customer Service Support
1 Boundary Row
Southwark
SE1 8NG
London, GB
My cable is stuck in the charging point. What can I do?
Do not make any attempt to force the cable out.
The cable will only release once your charging session is finished. Start by ensuring that you are following the instructions on how to end the session provided in our app and web portal.
Next, attempt to end the charge session through your vehicle's app or dashboard.
If charging has stopped and you are still unable to remove your cable from the charge point, you can call our customer service team whilst you are still at the station.
Customer service is available 24/7 at 0330 111 5335.
My vehicle won't start charging. What should I do?
If you can't get the charger to work, make sure that you are plugged in to a charger with the same Charge Point ID as the one you are trying to access on the app or website.
If you are still unable to charge, our friendly customer support team are available 24/7 to help you out. You can give them a call on 0330 111 5335.
What are idle fees?
We have a day-time idle fee of 8p/minute, which applies after 4 hours of plugged-in time, if your vehicle is no longer charging.
The idle fee is only applicable in daytime hours (9:30am – 6:30pm Monday to Sunday), so charging overnight will not be subject to idle fees until 9:30am the next morning. The fee is applicable to both members and PAYG users.
The fee is there to ensure the chargers are vacated when charging is finished, so that other users get a chance to fill up.
What are your rates?
What you pay for charging may vary depending on which charge point you are using, as well as which plan you are on with us. Please check the app, website and charging point prior to starting your charging session to determine the rates payable at the charge point.
More details on our pricing can be found here.
What charging plans do you offer?
You can choose your preferred Believ Plan when you sign up through our App or online. We offer two plans, a pay-as-you-go plan and a membership plan.
We also have an offering exclusively for private hire vehicle drivers.
Full details of our plans can be found here.
What is a rapid charge point?
Rapid charge points are a faster way to charge. Our Believ 50kW rapid charge points offer over twice the speed of our fast 22kW charge points. This means that electric vehicles will take much less time to charge.
The cable is tethered to the charging unit and only cars with rapid-charging functionality can use the machines. There are two types of rapid charger connectors that we offer:
CHAdeMO (50kW DC)
CCS (50-350kW DC)
We are installing rapid charge points in a variety of locations around the UK. Rapid chargers are usually placed at major transport hubs and transport interchanges to enable convenient, faster and more efficient charging for drivers on the move. By installing in these areas this will provide 'range confidence' that recharging is available for EV drivers either travelling for work, business or leisure or for making long distance road trips.
What is the price for the phone call to the Believ number?
From a landline it will be the price of a local call. Please check with your mobile operator for call costs if you are calling from a mobile.
What payment methods can I use?
We accept debit and credit VISA and MASTERCARD cards. If you experience any issues when registering your payment card, you may need to contact your bank to ensure that transactions with us has gone through. Please note the transaction will appear as Believ London once it has been authorised.
What should I do if I find a damaged or a faulty charging point?
Please contact us immediately on 0330 111 5335 if you see one of our charge points is damaged or faulty. Please do not attempt to use or touch the charge point if you see any damage.
Please identify the affected charge point by giving us the location and/or the charge point ID number, which can be displayed on the front of the charge point. The ID number starts with GB- LCL followed by characters and number.
What should I do if I find a non-electric vehicle is occupying a Believ bay?
Whilst we will do everything we can to keep the charging bays exclusive to electric vehicles, it is the responsibility of the boroughs to enforce the parking regulations. Please report any vehicles illegally occupying a bay to the relevant local council directly as they will have the authority to have vehicles ticketed and/or removed.
Where are Believ rapids being installed?
Our first rapids are currently being built and expected to go-live in February in Gosport, located on England's south coast – just across the harbour from Portsmouth. Our first rapids are being installed in car parks around the area, starting on the West side of Gosport close to the beach, and a popular tourist area. We will be installing more rapids in locations around the UK in the upcoming months, so please check on our interactive map for further information, where you will be able to filter the charge points by speed: Believ – Find a charge point.
Where are the charge points located?
Believ is creating a network of reliable and convenient charge points in residential areas across the United Kingdom.
The vast majority of our charge points are located on-street in order to provide convenience for those without a driveway. You can view a map of our charge points and select one to charge at here.
Who are Believ?
We're building a growing network of Electric vehicle charge points dedicated to those households that don't have access to a driveway. We're looking to create a network of highly reliable chargers right where they're needed: close to homes in urban areas around the UK. We believe on-street charging is vital to allow everyone to make the switch to an electric car.
Believ is a joint venture between Liberty Global and Zouk Capital, and we are partnered with Virgin Media O2 to support our EV charging network expansion.  Virgin Media O2 passes close to 16 million homes and continues to build past hundreds of thousands of additional premises every year – one of the biggest ongoing infrastructure investments in the UK. Zouk is the fund manager for the UK Treasury's Charging Infrastructure Investment Fund (CIIF), helping to deploy government funding into charging infrastructure around the UK.
Why haven't I received my membership/RFID card yet?
If you would like to use an RFID card to charge with us, you will need to request one in the Believ EV app, in the driver portal or by emailing us at [email protected]. Subscribers to our Membership can request an RFID card for free, otherwise there is a charge of £5 per card.
The delivery of your membership card(s) can take up to 7-10 working days. Please also note that Royal Mail have advised that due to exceptionally high volumes, some customers may experience slightly longer delivery timescales.
To help ensure that your membership card can be issued, please check that you have completed the steps below:
-add a valid and complete address to your Believ account;
-register a valid payment method;
-accept Terms and Conditions;
Failure to complete these steps will delay the arrival of your membership card. Should you have any further questions, please contact us.
Will I continue to be billed once my car has finished charging?
Your charging session begins when you connect your vehicle to a charge point, and ends once you disconnect your vehicle. Some of our charge points may have an 'overstay' tariff, which charges you for remaining at the chargepoint without drawing power. To avoid any overstay fees, we encourage you to disconnect your vehicle once it has sufficiently charged and move to a new location, to allow your neighbours to charge as well.
No results found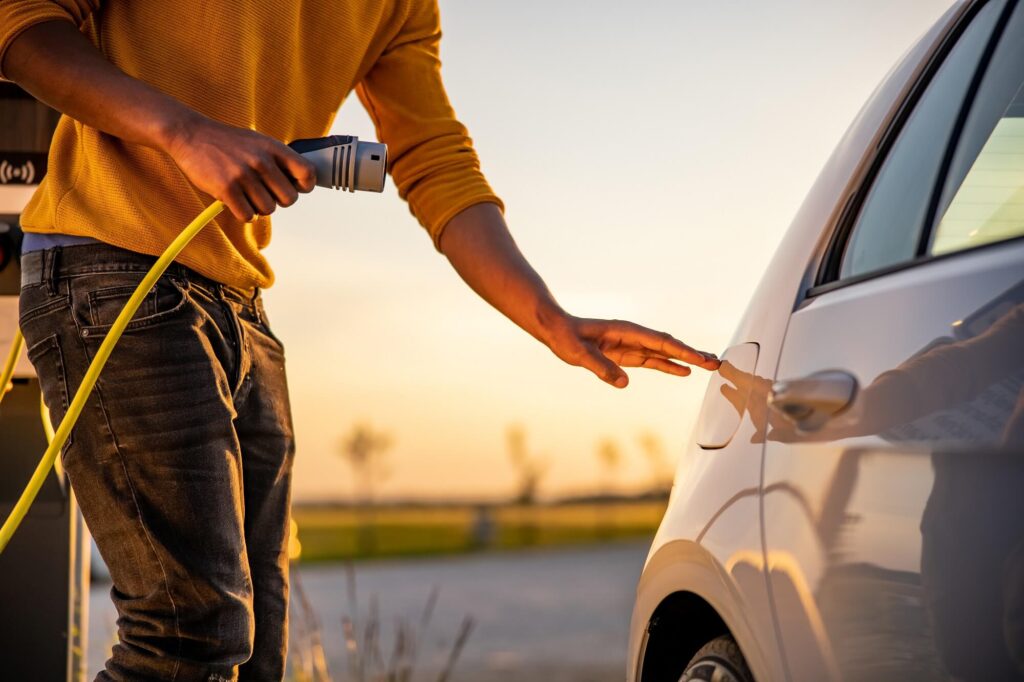 Need help charging your car?
Take a look at our step-by-step guide to find out how to charge your vehicle using the Believ network.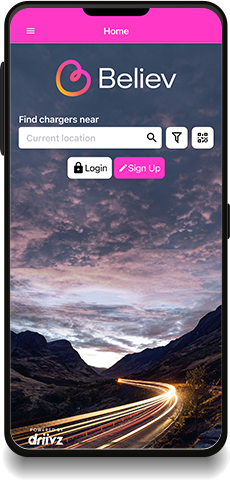 Download our app!
Download the Believ App to access Believ's electric vehicle charge points in the UK.
We make public charging simple.